Olly's great Easter Egg Hunt
With Easter just around the corner, Olly the Ostrich is very agitated as he's misplaced four extremely valuable eggs. Olly is unable to stomach all of the pressure (despite ostriches having 3 of them!) that comes with finding the lost eggs and is in need of your help! They are lost somewhere across our four websites, and can be retrieved with the release of clues along with your support. There is of course an incentive for helping Olly find these ostrich eggs... which also happens to be an Ostrich Egg from Hotel Chocolat worth £75!

The Details You Need To Know
The search begins on Monday 3rd April at 9:30am - Thursday 6th at 5:00pm, where one egg will be hidden daily upon our four different websites. On the Monday the egg will be hidden somewhere on Office Reality, Tuesday will be Cafe Reality, Wednesday at Online Reality, and on Thursday the last egg will be found on Edu-Quip. Clues will be given out each day, linking to the specific date of which the egg makes an appearance. These clues can be found in our email announcements, social networks and on this page, where the details below will be updated daily.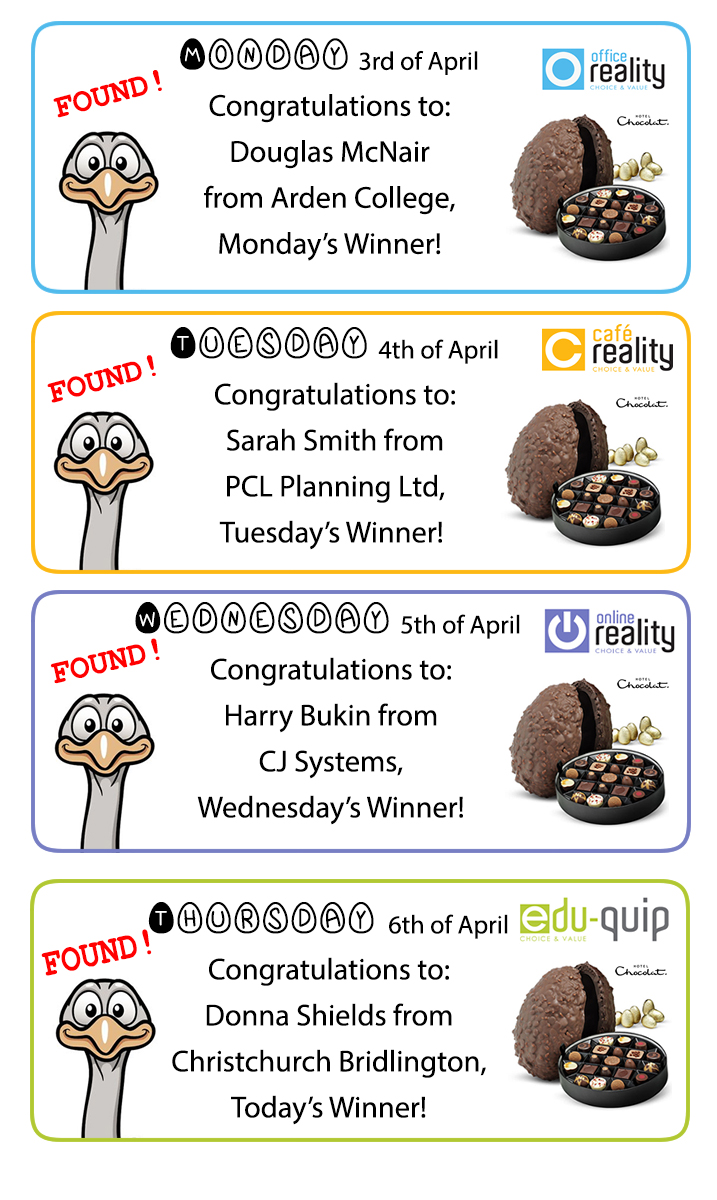 Competition Rules:
· Prizes can only be sent to a valid UK address unless otherwise stated.
· Winners will be chosen at random from all valid entries.
· Winners will be contacted via email names displayed on our website.
· The competition will run from 9.30am Monday 3rd April until 5.00pm Thursday 6th April.
· Our policy is such that we will not pass on your details to any third party without your prior consent.
The competition is not open to employees or members of their immediate families and in any event the decision by Office Reality shall be final.
Office Reality cannot be held responsible for any difficulty in communication with the company or participant of the competition.
· Office Reality Ltd is compliant with the data protection act.