The popularity of world schooling is rising. But what does it mean? Writer Eli Gerzon defines it as using the world as your classroom. It's about immersive learning – educating children by letting them experience cultures, traditions and history first-hand. Some define it as a type of home schooling and argue that it doesn't have to involve travel. Rather, it's about actively learning from the world around you.
Who better to ask about world schooling than the families who have embarked on a different kind of education for their children? We spoke to seven world schooling families to find out more about this alternative form of learning.
Image credit: The Road School Diary
*Contains a few swearwords
Video credit: The Nomadic Family
The Nomadic Family are Gabi and Kobi, and their children Dahnya, Orazi and Solai. After leaving their home in Israel, they world schooled for three and a half years in places such as Cambodia, the Philippines and India. Gabi told us that she cancelled the trip twice before they left as she was terrified to leave the comforts and stability that she had created, such as her career, home, community and the school community. However, once they were on the road, she asked herself why they hadn't world schooled sooner.
Today, the family still use the world as their classroom no matter where they are and inform others on how to save for the dream and head out onto the road. Gabi states that world schooling has made their children "deeper individuals. It's given them a sense of maturity and open-mindedness that we could never give them at home."
But, what were the benefits from their years of world schooling? "The benefits of world schooling are that our kids don't have to compare themselves to others. There's no competition of 'did I get an 80 or an 85 [on that test]?' Or, 'if you got a 90 and I got a 70 then what does that mean about me?' In world schooling, there's just the idea that you are connected to whatever you're passionate about and you focus on things purely for the intention of learning because you're curious."
Gabi also told us that world schooling is great because children have resources around them that are 'alive': "They can actually go and touch and feel and talk to people and experience and hear the language. They can taste the food and smell the smells. It's not just a one-dimensional learning experience – it's like a seven-dimensional learning experience."
Keep an eye out for their documentary launching later this year.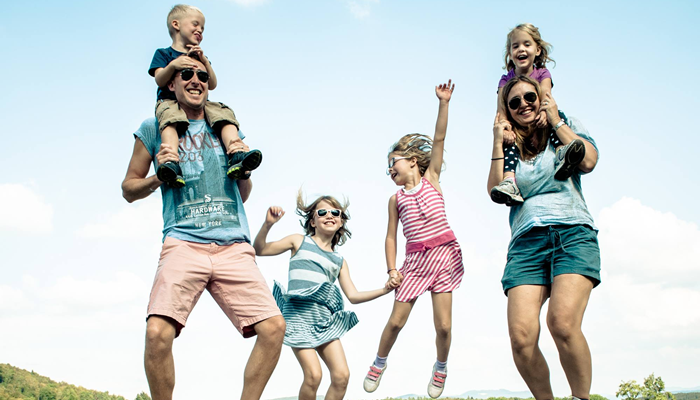 Image credit: Off the Grid
The Princes are a family of six, home-swapping their way around the world. They left Singapore after 15 years to spend more time together. Daniel – who is writing a book that includes a chapter on world schooling – reflects that the heaviest baggage they carried around with them was the worry of their kids' education. However, he argues that world schooling offers fantastic benefits, perhaps more than traditional forms of schooling.
"Please do not think for one minute that taking your children out of school to travel short or long term will ever hold them back in their education of life. It will do the opposite. They will flourish. I have seen it with my own kids… In many cases, returning [to school], children start achieving grades far higher than they ever had before and shine a light far brighter than they could ever have thought possible."
Daniel infers that more school may not be better. In fact, he believes that every family should world school for at least one or two years if possible. "This process gives you such a different view of your children for one…. We have now learned exactly how each one of our kids learns. What inspires them, what bores them, how they respond to certain things, what mental blocks they have and how best to adjust our course when tutoring them. Finding this out was one hell of a journey."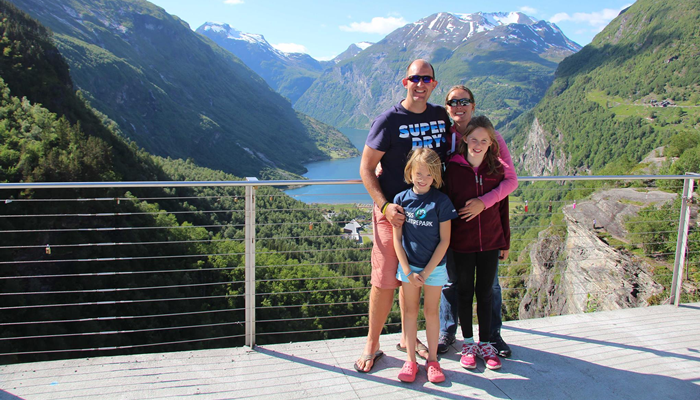 Image credit: Life in Our Van
Richard and Catherine Thorley packed their motorhome and took their daughters Lottie and Libby on a European #Roadschooling adventure. Richard and Catherine are teachers themselves and are world schooling their daughters, taking them on 'edventures' for a unique learning experience.
They have been on the road for 16 months and have so far visited 27 countries. Their trip has given their daughters plenty of opportunities to meet new people and discover new cultures.
Richard has said that one of the main benefits of world schooling is that the girls are able to learn through real-life experiences. However, it has also greatly benefited the girls' confidences. As Richard explains: "Encouraging people to find their own voice is a critical aspect to our trip… We wanted our girls to form their own opinions and have confidence in their ability to express these to others. Their confidence has grown quickly [through world schooling], leading to contributions towards the National Poetry Day in Alsace or creative writing stimulated by the amount of reading they do each evening."
Image credit: WorldSchool Family

Rachel Denning is part of the WorldSchool Family (made up of Greg, Rachel and their seven children). They've been nomadic since 2007 and have lived or travelled to more than 30 countries on five continents. The Dennings set out to 'live deliberately' rather than settle down with just an 'okay' life.

Rachel believes that world schooling is on the rise because parents are tired of kids being crushed by the process of 'education'. They look for alternative options outside of what she calls the "conveyor-belt system of public schooling". Instead, she states that this type of interest-led, environment-and-experience-based methods of learning focuses on "individual character development and an individualised curriculum".

Rachel told us that worldschooling is a positive experience because of its holistic approach to the development of whole individuals – instead of only concentrating on academic progress. She adds: "Students are engaged in the learning process because it's hands-on and experiential, instead of book-only. This means they have an easier time remembering what they've learned and creating connections to other experiences they have or books they read."

Image credit: Raising Miro on the Road of Life

In 2009, Lainie Liberti decided to head out on the road with her 10-year-old son, Miro for a year. Fast forward seven years and they've travelled to 15 countries and have become what Lainie calls "radical unschoolers" through world schooling.

Lainie kindly sat down with us to explain what she believes are the some of the many benefits of world schooling – and told us of one of the biggest challenges that world schoolers face.

"There are a multitude of benefits to world schooling. Number one: family time. Number two: being present and having the experience together. Number three: learning naturally from the world together".

Lainie is keen to point out that anybody who is engaged in the world and who looks to the world around them as a source of inspiration can call themselves a world schooler.

"World schooling allows sparks of inspiration. Once we've climbed a mountain, we now want to know about global warming and we want to know about the history, the astronomy and the mythology – all of these things are sparked because we're absolutely engaged in our own lives and engaged in each other's passions as well as the world providing these sorts of stimulus for us."

However, as Miro became a teenager, he started to crave what Lainie deems as 'the biggest challenge' that world schoolers come across: not having a feeling of community. As they discovered that Miro was not the only world schooler who wanted a community, they had an idea: why not build temporary learning communities specifically designed for teens?

Today, Lainie and Miro run Project World School – temporary learning communities around the world where home-schoolers, unschoolers and self-directed teens come together for a group educational experience. Hosted in countries such as Peru, South Africa, India and Wales, these retreats combine both natural and academic learning through immersive cultural experiences while encouraging teamwork, leadership and social learning. They are also hosting their second world schooling Family Summit, where the focus is about creating a hands-on, immersive worldschooling experience with other like-minded families.

Image credit: The Road School Diary

After becoming frustrated by a constant regime of testing and targets, teacher, writer and presenter Sue Cowley and her partner took their children out of school to educate them on the road for six months. The family travelled around Europe and China, planning their itinerary around the children's interests. For example, they visited Mount Vesuvius in Italy to learn about volcanoes and Beijing Zoo to learn about giant pandas.

Sue was keen to show her children that learning doesn't only happen in school. Her new book, Road School, documents the journey and provides a guide for parents on providing education on the road. Fundamentally, Road School asks you to question what 'education' really means.

"One reason why world schooling is so beneficial is because it helps your children understand the rich variety of cultures that there are in our world, at the same time as understanding that we were all the same under the skin," Sue told us.

"Another reason is that it allows them to see history and geography 'in action' – for instance, through climbing to the top of Vesuvius and then going to visit Pompeii and Herculaneum."

But what happens when children return to 'traditional' schooling?

Hannah is a world schooler who spent most of her childhood travelling full time with her family across six continents with countless adventures. She is now studying Geography at Queen's University in Canada, but is still passionate about travelling and education. So, how has world schooling helped in her day to day life now?

"As I complete my second year of university, more benefits to my childhood education are revealing themselves… Worldschooling allowed me to discover my passions and my confidence and use them to live life with direction.

Without worldschooling, I could not have built a location-independent career for myself by age 20. I likely wouldn't have the confidence to accept a recent internship opportunity to Guatemala.

I don't feel that millennial need to "find" myself, because through worldschooling, I've been empowered and already know who I am.

"If you're wondering if this lifestyle is a good fit for your child, I hope it will help you to know that every strength I have today came as a direct result of my unconventional childhood. What's more? I loved every minute of it."

---

So, would you consider world schooling? Do you think that these benefits are better than 'traditional' schooling? Let us know in the comments below!

comments powered by Disqus